Side Hinged Garage Doors
AR Door Systems supply and install Side Hinged Garage Doors in Basingstoke, Newbury, Reading and the surrounding areas. We have a whole range of types, styles and colours available. Here's a selection of what we offer:
Steel Side Hinged Garage Doors
Steel Side Hinged Doors are becoming ever more popular due to their traditional design but modern construction and durability. Our range of traditional Steel Side Hinged doors are a perfect blend of robust construction and reliability. They're strong, durable and available in a wide range of colours. Irrespective of the colour, all steel doors are primed with a high-grade powder coating. The galvanized door leaves are protected against corrosion and the adverse effects of the environment right into the cut edges. These open outwards and on the standard doors the leaves of the doors are of equal sizes. However, the division of the door leaves and the positioning of the fixed and traffic door can be designed according to your individual requirements with the 1/3 - 2/3 leaf configuration being one of our most popular.
We supply steel side hinged garage doors from the leading suppliers including Hörmann and Garador. All doors come with a two point locking systems and concealed hinges for added security. And the combination of sturdy weather proof seals and the aluminium threshold ensures excellent weather proofing.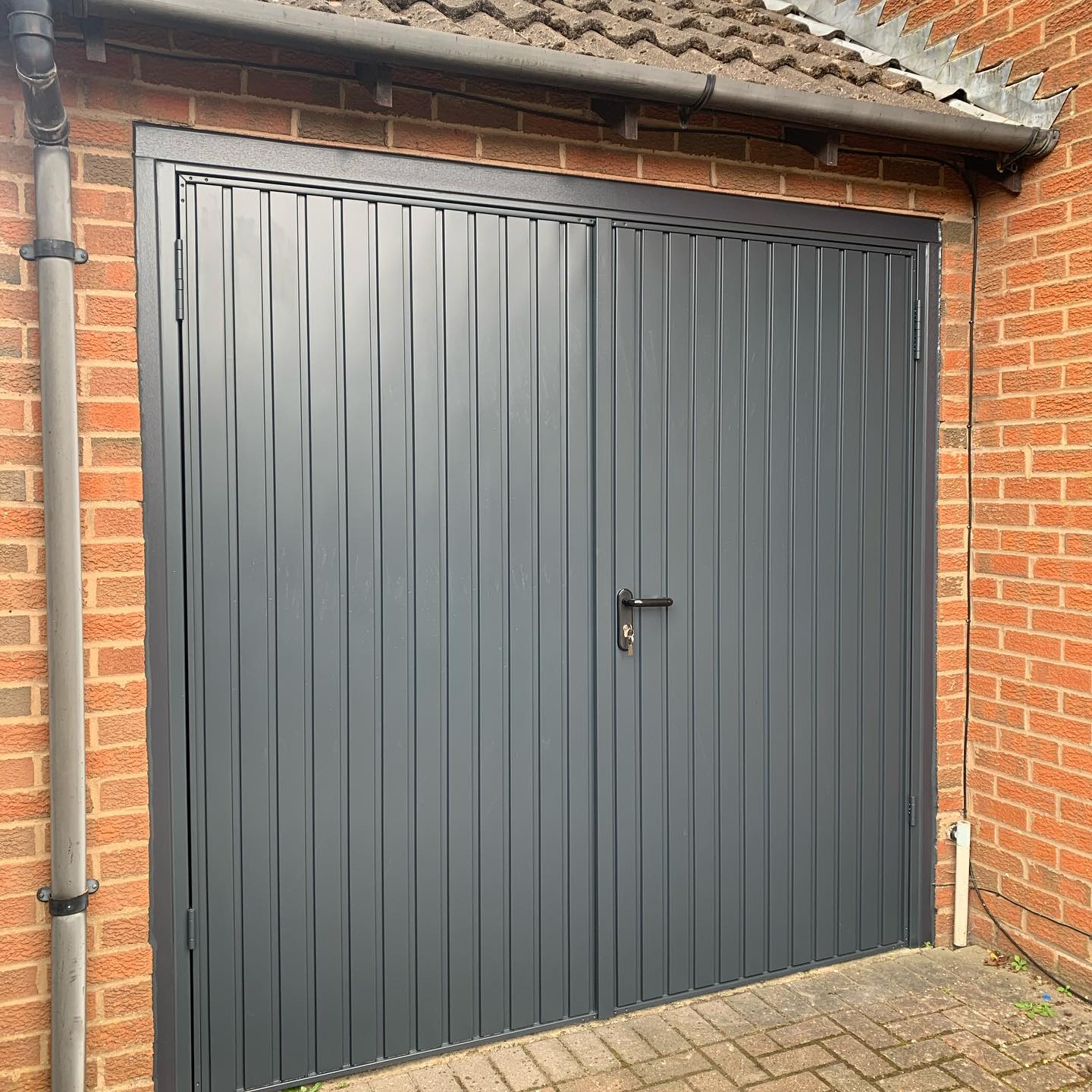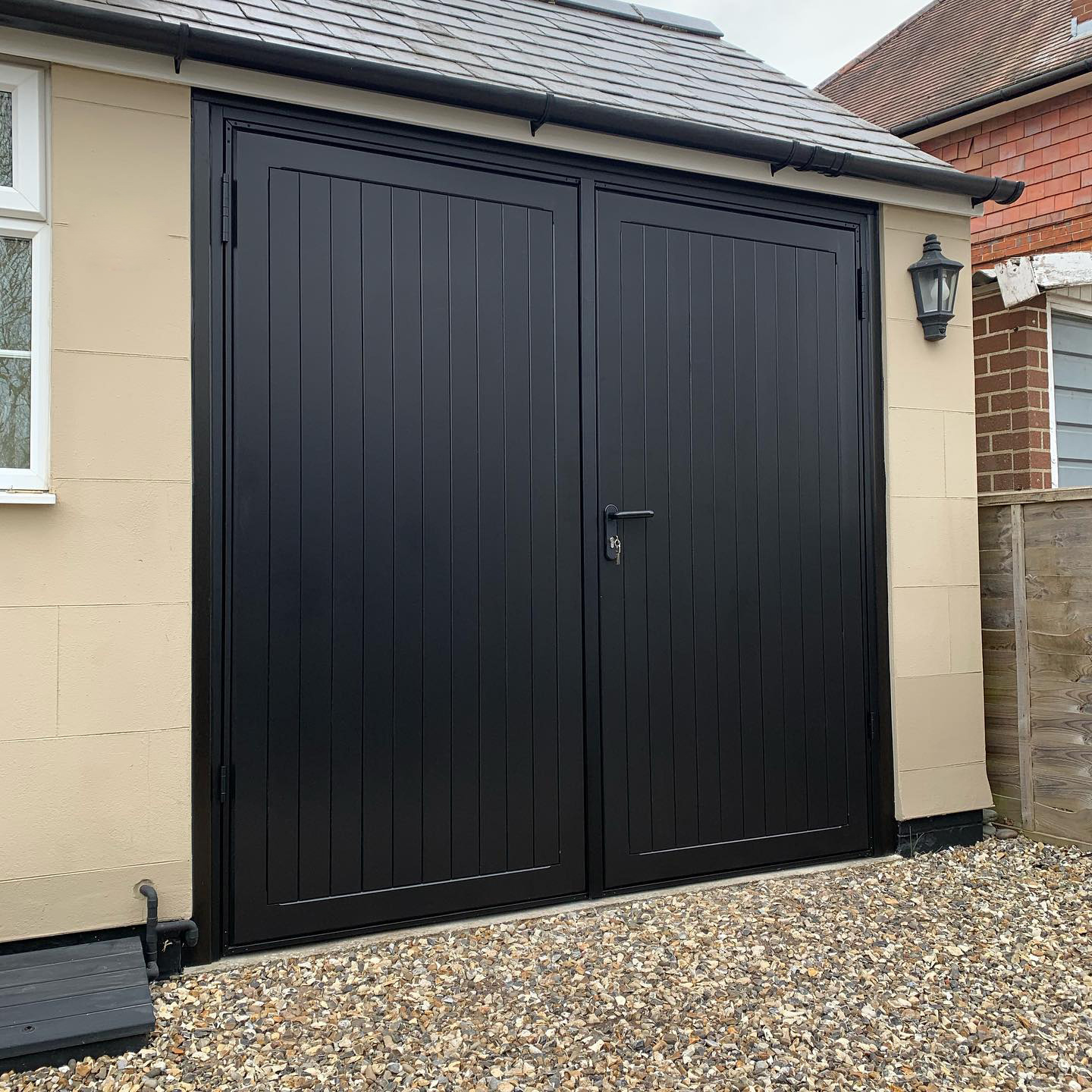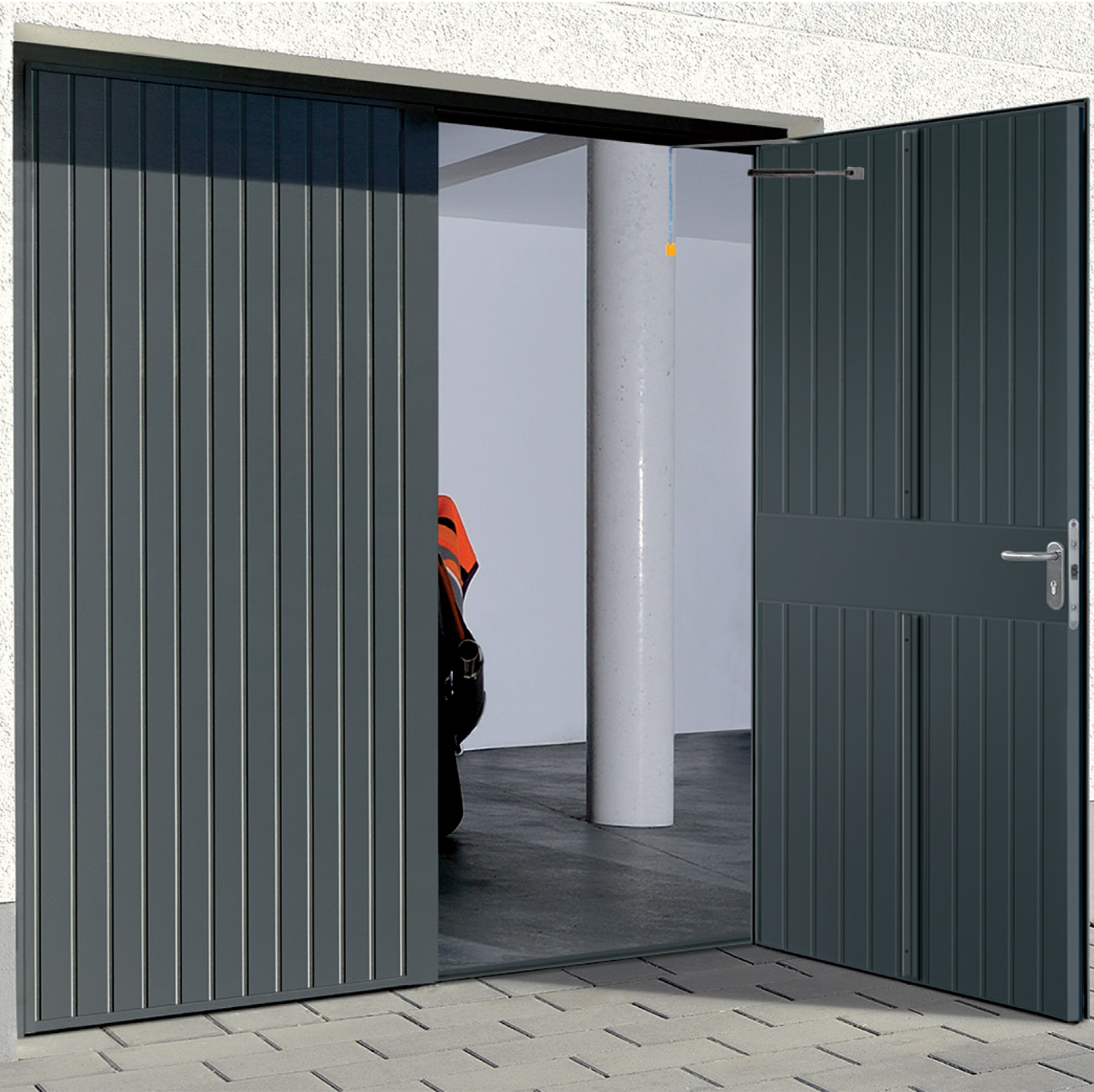 GRP (Glass Reinforced Polyester) Side Hinged Doors
GRP doors are available in different styles. Panels are available as either high gloss or wood grained effect. The wood grain GRP mould has a realistic wide-grain timber effect surface finish. These are available in a selection of colours. Fibreglass means the lowest maintenance possible. Just a simple wash once in a while will maintain its attractive appearance. A high quality construction is achieved by using the finest gelcoats and fibreglass matting and incorporating inbuilt timber and steel reinforcement. All doors are built around a steel box-section chassis.
Timber Side Hinged Garage Doors
Timber Side Hinged doors are supplied with a selection of stain finishes. They have a beautiful natural look but have modern day performance and reliability. The doors are constructed from solid red cedar wood which is built around a steel box section chassis. They all come plywood backed so that the timber boards are not seen from the inside of the door. These doors provide extra space inside the garage and are a great solution for garages where access to wall space is limited.
Steel Door Features - Garador Range
Every steel door installed by us, through our supplier Garador, comes with the following features as standard:
If you're interested in the supply and installation of side hinged garage doors in Reading or the surrounding areas then get in touch. For more information on our range and a free quotation call us on 01635 873233. Alternatively you can email us at sales@ardoorsystems.co.uk.
Had a quote from another company? Give us a call, we aim to match, better or beat any genuine quote!